You Don't Have to Travel to Exotic Locales to Find Great Photos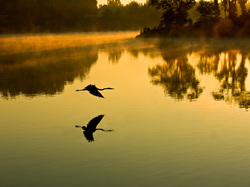 Heron Over Winton Lake
There's a saying in photography that, if you want to take interesting photos, stand in front of more interesting things. Many photographers believe that you can't find interesting things where you live, so they travel to Arizona, California, New Mexico...Peoria....

I believe that photography is more than a pretty picture of the Golden Gate Bridge (although that is a site to see.) So many of these "great" photos have been done, and done, and done again. As more cameras and people continue to travel to these exotic areas, there will be no "exotic" photos.

It will be increasingly important to have good stories to go with the photos. It will also be more important to develop stories through the photos. To do those things will require knowledge and experience of the chosen locations. Those traits are more likely to be found in a local photographer. This is where the local becomes global. This is where a series of photos of the Little Miami River can have more impact than a photo of the Amazon.

Local becomes the new global.
---